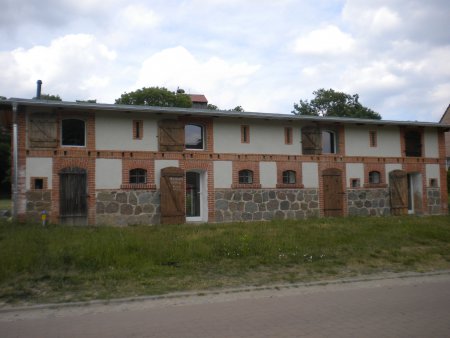 Stable Museum Groß Fredenwalde
(Village 14 a)
The former monument-protected stable building from the 19th century. The century lies in the centre of the village, below the church, at the edge of the sports and playground, next to the bus stop. This central square is often used by Fredenwaldern and holidaymakers.  The house consists of a exchange and an exhibition space and combines different interests. It is open to all residents and guests.
Each family of the village, which lends an exhibit for the village Museum, is involved in the content. In addition to temporary exhibitions about village life, guest artists and guest curators will expand the spectrum.
Use of buildings:
The structure of the house with four rooms and four entrances and exits gives the order. We have largely preserved the structure and developed three rooms that can be used independently of each other.
A room houses the exchange exchange, in which goods, wishes, ideas, information, offers and can be picked up. The exchange is cashless trading.
This room should be open daily and freely (uncontrolled) accessible.
The museum in the stable occupies half of the house.
It is open at certain times.  The basic equipment (exhibits) provides the village. Each family should make or borrow at least one exhibit. Less the historical, but more of the personal value are decisive for the selection.  The first exhibition should not only recall past times but also reflect a picture of the village.
The exhibition must be modifiable like village life and provide room for guests (guest exhibitions). The furnishings are designed to be mobile.
The economic section in the third room of the House (Office and Warehouse) is not public.
Report in RBB about Inge Dunning and the stable museum with the exchange in Groß Fredenwalde
Contact:
Prof. Inge Dunning, Groß Fredenwalde 2, 17268 Gerswalde
Phone: 039887-5859